Barbara Fox has been involved in murder mysteries since 1986 when she founded the interactive theater company, Mystery On The Menu.  She writes, produces, directs and acts in the plays. She is the author of the Murder In The Inn series, Act Two For Three, Widowpedia, and the non-fiction Murder, Mystery and Me.  She lives in Hollywood, Fl. where she enjoys the beach, line dancing, and going on as many cruises as possible.
Contact her at her website mysteryonthemenu.com
http://barb890.wixsite.com/booksbybarbara
https://lifesabeachtoday.wordpress.com/
Also by Barbara:
The Murder in The inn series (Murder in the Inn, Another Murder in the Inn, Murder in Another Inn, Mysteries in the Inn)
Act Two For Three
Widowpedia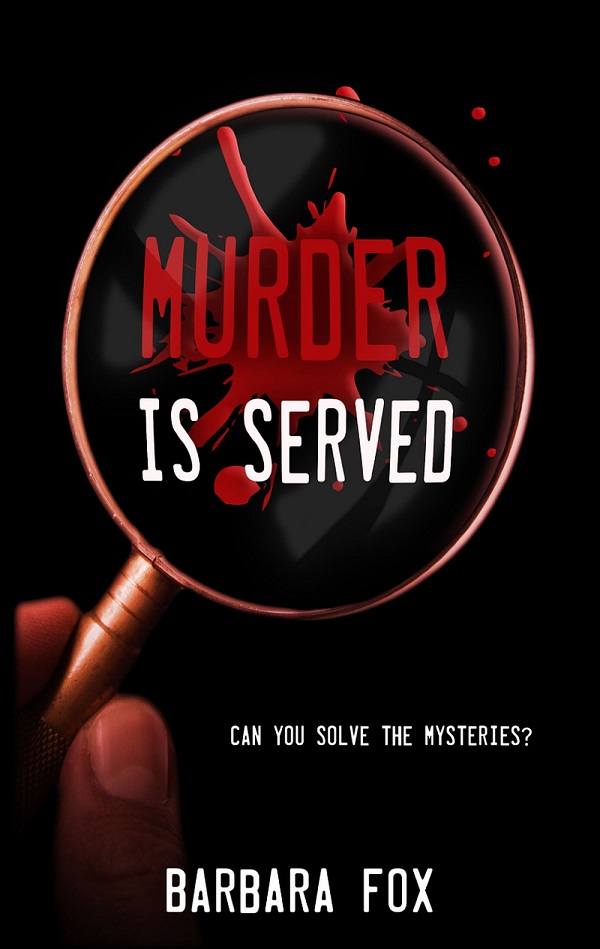 MURDER IS SERVED
CAN YOU SOLVE THE MYSTERIES?
Several crimes have been committed….Can you solve them before reading the solution?
MURDER IS SERVED TO…
Roberta Reed, a snoopy newspaper reporter, Mark Dolermain, a lawyer with a specialized government agency, Janie Jason, a student studying to be a detective, Marty Sparrow, a security guard and owner of The solve-it Detective agency and A.R., a professional homicide detective. They are investigating several crimes and you are invited to join their investigation.
MURDER IS SERVED AT…
A salsa class, a family reunion, an embassy party, a corporate meeting, a bingo game,a luxurious condominium and on a beach.
Who stabbed celebrity Chef Claude Briand, who poisoned TV soap opera star Paula Brent … who shot CEO of the Crumpert Cookie company William Blakley, who strangled Jill, the talented, ambitious dancer? These are just a few of the many crimes to investigate.. You have all the information necessary; try to solve the crimes before reading the solution on the next page.
ALPHABET RHYMES

ALPHABET RHYMES is full of rhymes and illustrations from A to Z about animals, people and things, so open the pages and take a look…
You will meet:
The ants wearing fancy pants
The goat who wants your vote
The giraffe who likes to laugh
The mouse who is cleaning her house
The mice who are very nice
…and lots more!
Children will like repeating and memorizing the rhymes. It's a sure bedtime, or anytime "read it again" book.
Barbara's story A PACKAGE OF CAT FOOD appears in volume 9 of the Crimson Cloak Anthologies for charity, FELINE FANCIES, sold in aid of feral cat charity FIXNATION.